The best sushi in Quebec City is a mix of tradition and Québécois influence. Ten years ago, a small handful of sushi restaurants dotted Quebec City. Today, there are over 50 sushi places. Miam!
The idea of sushi popped up in Japan in the 9th century, and its popularity spread alongside Buddhism. In Edo in the 1820s, Hanaya Yohei invented nigiri sushi. A hundred years later, vendor carts of modern sushi took over the streets of Edo.
Sushi arrived in North America in the 1970s. In the mid-1980s sushi restaurants in Quebec became an intriguing dining trend.
Here Is Where to Eat the Best Sushi in Quebec City
Miyagi Bistro Thai & Sushi
Located in the Limoilou neighbourhood, Miyagi Bistro Thai & Sushi is a local favourite. The sushi pizza has a panko-crusted nori base which is crispy and delicious. There are maki rolls named after Quebec neighbourhoods, streets, and figures. The spicy tuna gunkans are delicious. Vegetarians will find a couple of maki rolls and hosomaki rolls.
Sushi prices range from CAD 6 to 11.75. Dine in or place an order online for takeaway or delivery,
Where: 523, 3e avenue
Metropolitain Eddie
Metropolitain Eddie is a place for the best sushi in Quebec City. It's in Montcalm, close to Halle Cartier. The restaurant has a traditional Japanese vibe, with cherry blossom artwork, and kimono.
This is one of the few sushi shops in Quebec City that is Japanese-owned. The menu has traditional sushi. Specialties include grilled salmon with skin, and toro tuna sashimi. There are beautiful ikura salmon roe gunkan, and octopus sashimi. Honestly, it is all delicious.
Sushi prices range from CAD 6.95 to 20. Delivery is available, but dining in is the best experience.
Where: 1188, avenue Cartier
Kimono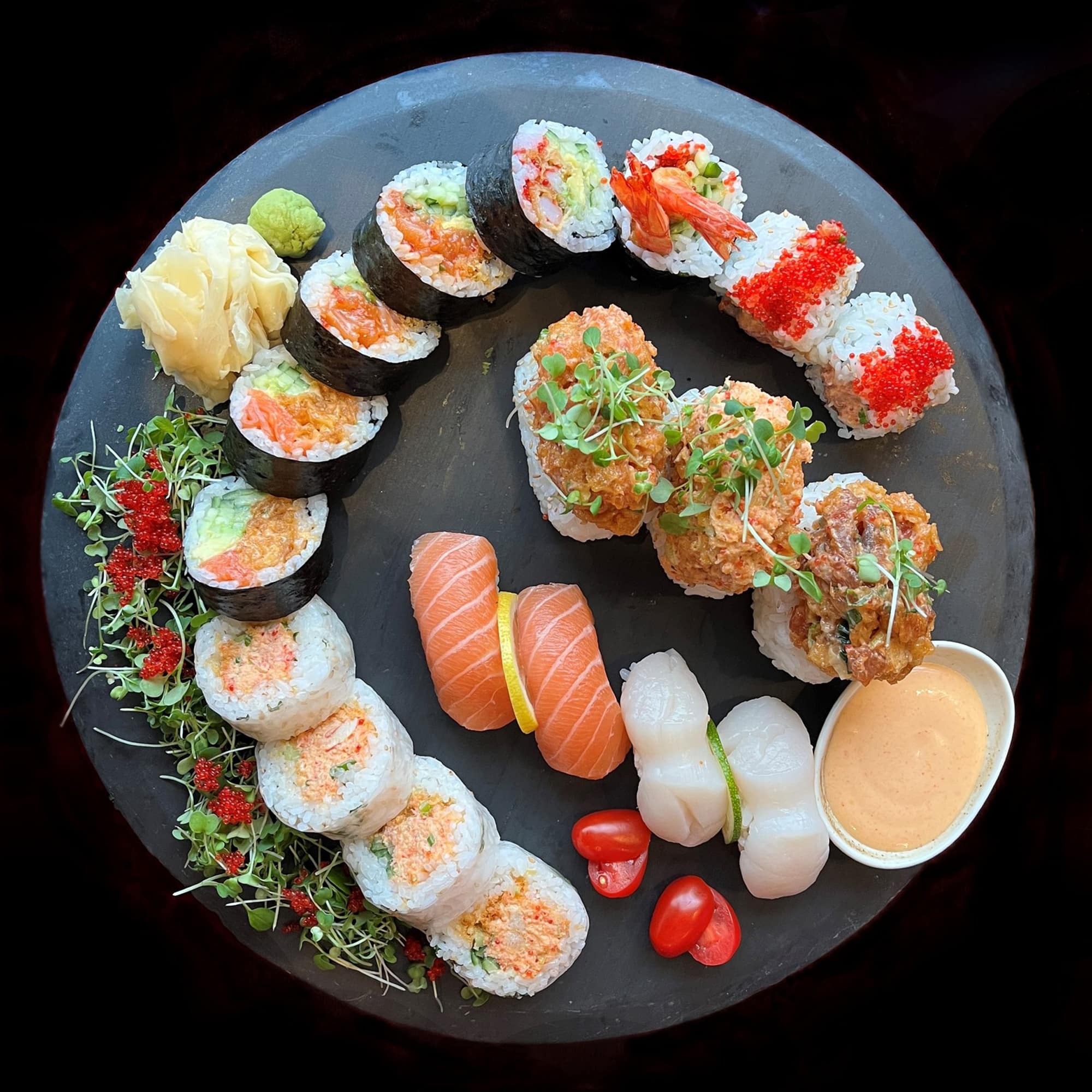 Kimono looks like a unicorn fever dream. There are bright pink velvety chairs at the bar and a variety of pink and purple on the walls. It has a glitzy charm, a giant Buddha, and gorgeous plating techniques.
Sushi is the star here, with hosomaki and futomaki rolls, nigiri and sashimi. They also serve poké bowls and tartare. Kimono is one of the best sushi spots in Ste-Foy.
Sushi prices range from CAD 7 to 22. There is a chef's combo for pregnant women, as well as several gluten-free sushi choices.
Where: 1137, route de l'Église
Restaurant Tokyo, One of the Best Sushi in Quebec City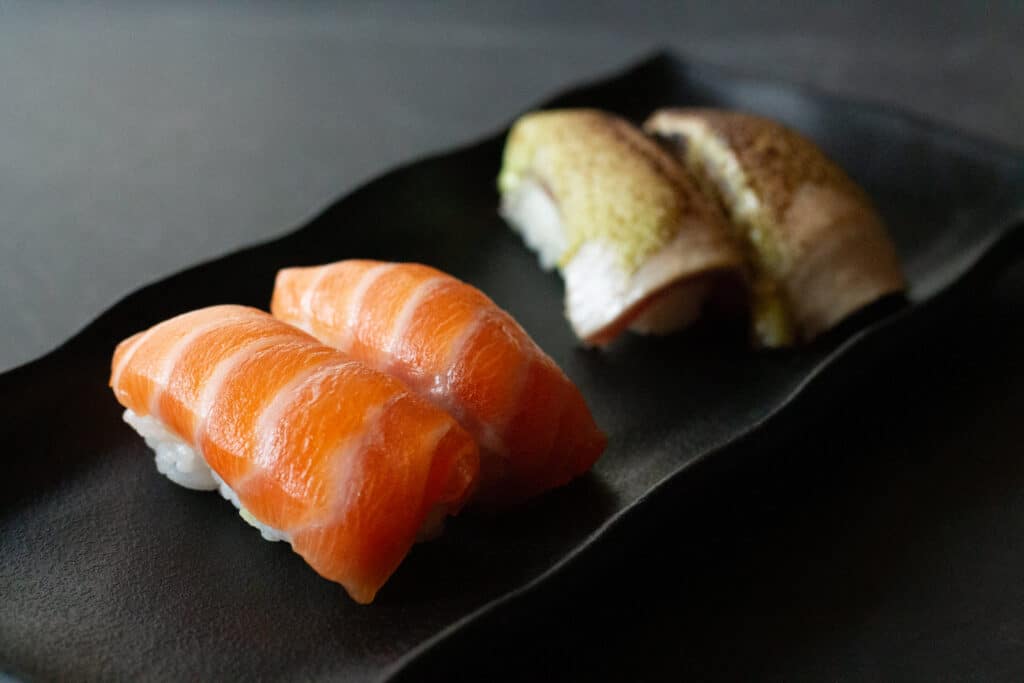 Restaurant Tokyo is an institution in the Saint-Jean-Baptiste neighbourhood. The dining room is large, and they have a BYO wine policy. The menu has a delicious variety of traditional sushi, from agemaki and uramaki to omo maki and nigiri.
Try the salmon skin(!) omo temaki and kaede uramaki. Vegans will enjoy the satsumaimo made with sweet potato, avocado, and vegan eel sauce. The menu also features bento and poké bowls.
Sushi prices range from CAD 3.50 to 9. A perfect sushi spot for any budget.
Where: 401, rue Saint-Jean
La Boîte à Lunch Ekidon
La Boite à Lunch Ekidon is a Japanese food shop with a sushi counter. It's a great place for takeaway sushi and Japanese sweets, snacks, and drinks. Order an onigiri, sushi, and sanshoku dango (colourful sweet rice cakes) for dessert.
Scallop tartare maki rolls are delicious, and kamikaze tuna, too. The menu has Japanese curry, udon noodle soups, and chirashi bowls as well.
Sushi prices range from CAD 5.75 to 14.75. Order sushi for takeaway or delivery on their website.
Where: 951, avenue Cartier
Masaru Sushi
This small sushi restaurant in Old Quebec is slowly becoming a favourite in the city. Masaru Sushi is tucked into a quiet corner off Côte de la Fabrique. The menu is small and adaptable to various diet restrictions.
Tell them if you are vegetarian, vegan, gluten-free or have food allergies. Poké bowls are available, and sides include gyoza, miso soup, and seaweed salad.
Sushi prices range from CAD 5.50 to 23.50. Dine in or order sushi for delivery through DoorDash.
Where: 46, rue Garneau
Nicky Sushi, One of the Greatest Sushi Restaurants in Limoilou
Nicky Sushi is another yummy sushi spot in Limoilou. It is also one of the only sushi restaurants in Quebec City with a conveyor belt winding around the bar. The restaurant is cozy, and bar seating fills up quickly. In the evening they have all-you-can-eat sushi for CAD 45.95.
The à la carte menu has maki, nigiri, temaki, sashimi, hosomaki, and gunkan. The sushi pizza is good, as well as the crispy lobster deluxe maki rolls.
Sushi prices range from CAD 5.95 to 16.95. Dine in or order sushi for takeaway or delivery. There are separate menus for pregnant women and children.
Where: 311, chemin de la Canardière
The best sushi in Quebec City will continue to evolve as more places open throughout the city. It's an exciting prospect and I intend to keep testing the new ones as I return to Quebec!
Sushi spots can be found in every neighbourhood in Quebec City. Dine in, get sushi takeaway for a picnic in a park, or have sushi delivered to your hotel room. Every day is a good day for sushi!
For more ideas about things to do in Quebec City, click here.
Are you in Pinterest? Pin these now to save them for later!