January is usually the beginning of the Nordic nights in the impressive Ice Hotel in Quebec City, which stays open on as long as the frosty winter nights keep'on coming! On the list of top winter activities to do in Canada, this unmissable, but oh so ephemeral, attraction near Quebec City impressed me despite its touristy side. A visit to the Ice Hotel in Quebec, great idea? Let's leave on a day trip to the frostiest hotel in Canada!
The artisans of the Quebec City Ice Hotel are inspired by yearly themes, like "Hotel Gardens" or even the circus. Floral motifs, tightrope walkers, fun clowns, goofy characters and even a tribute to strong men are some of the funky things you can see carved in the ice walls during your visit.
Please note that the information in this article may be inaccurate due to closures and changes during to the COVID-19 pandemic. Although I try to keep the information up to date, it is your responsibility to validate the information before you get there, as things change very quickly, alas!
Sleeping at the Quebec City Ice Hotel, What to Expect?
Let's take a tour of the hostel de hielo or Hôtel de Glace de Québec, one of the world's coolest ice hotels, right here in my home province. Although my sleeping over in this unmissable international attraction was cancelled because of the pandemic, I've visited the rooms. Here are some of my best tips for staying at the Quebec hotel of ice, the hotel on ice and in ice. 🙂
This frozen paradise of St-Gabriel-de-Valcartier, very close to Quebec, offers rooms where you'll experience sleep at a temperature between -3 and -5 degrees Celcius. Yeah, not as cold as you thought, right? A warm toque/hat is definitely a must for an overnight stay at the Ice Hotel. I also advise you bring some heat packs for your boots which will stay outside of the warm sleeping bags provided. They will be warm in the morning or if you need to use the bathroom.
How Much Does the Quebec Ice Hotel Cost?
Spending a night at the Ice Hotel isn't cheap! Packages start at $399 including breakfast and access to spas and sauna as well as a hotel room to change, sleep and shower in. Everyone can visit the frozen castle of the national capital for $24, which is still affordable for an original must-do near Quebec City.
Some of the links in this article are affiliate links, which means I receive a small commission if you buy through them. This helps me provide you with valuable content at no cost to you! Thank you so much for helping me maintain Chasing Poutine! 🙂 Learn more about it by reading the editorial policy and legal notices.
My Verdict: Is the Quebec City Ice Hotel Worth it?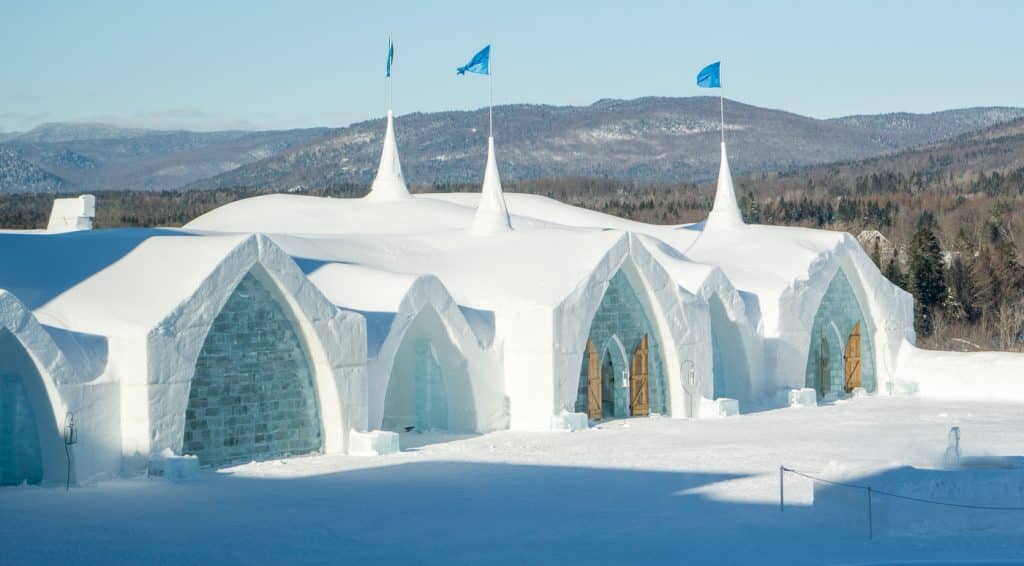 A visit to the Ice Hotel is a must at least once in a lifetime. I mean who wouldn't want to travel to an ice castle AND Quebec City? The talent of the artisans that sculpt the ice and snow, the architecture of the vaults that support this frosted juggernaut and the ephemeral side of this tourist attraction in an ever-changing weather : all good reasons to go if you've never been! I'd say it's worth it for a visit, and spending the night depends on your budget. Overall, it's definitely a night you'll never forget!
Enjoy your visit to the Ice Hotel in Quebec at Village Valcartier!
Click here for other inspiration of what to do winter in Quebec other than Canada's ice hotel!
For other great ideas of incredible places to see in Quebec:
---
Even though I have partnered up for this article, the opinions within it remain my own and have not been influenced in any way. Learn more about this by reading my privacy policy and legal notices.