I'm sure you'll agree with me if I tell you most travellers know a place better than the people who actually live there. Indeed, with the exception of weekends at the cottage in the province of Quebec or camping expeditions in our early childhood, we, Quebecers, tend to cross the border or the ocean when it comes time to vacation and we haven't necessarily explored the regions we're surrounded by. Having explored all corners of my province, I can only usher you to discover our regions in more depth with these 10 top things to do in Quebec, must see, memorable and sometimes unusual places to visit in Quebec!
Please note that the information in this article may be inaccurate due to closures and changes during to the COVID-19 pandemic. Although I try to keep the information up to date, it is your responsibility to validate the information before you get there, as things change very quickly, alas!
Here they are; the 10 places you must visit in Quebec!
1. Stroll Between Monoliths in the Mingan Archipelago
I visited the North Shore for the first time only in 2018, and boy should I have gone earlier! The Mingan Archipelago National Park Reserve in the Côte-Nord region resembles no other place, a top-rated Quebec attraction that you should add to your bucket list TODAY.
What's the definition of archipelago? PARADISE! Once you hop off the boat, you'll come face to face with particularly shaped monoliths resting on the rocky beaches, and forests with the most varied microclimates. A guided boat tour that takes you to several islands is recommended, but sleeping on the island overnight in a glamping tent is even better!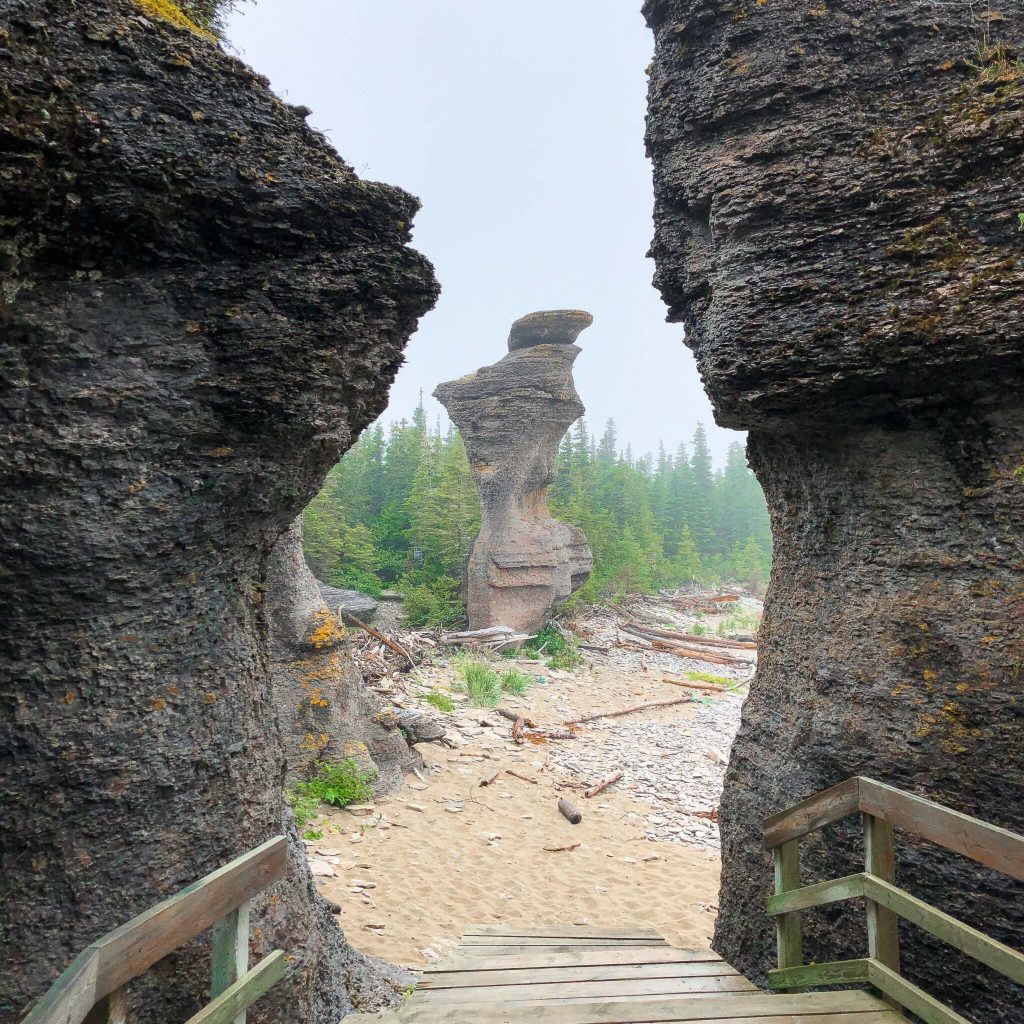 2. Sail Away on a Trip to The Magdalen Islands
If you've read me before, you know how much I LOVE the Magdalen Islands. Not only has it nestled itself in my heart, but the îles de la Madeleine archipelago definitely leaves no one indifferent. Once one has trodden its 300 km of beaches, kayaked under its ochre cliffs and met the endearing Madelinots, one can only return again and again. Discover some of its emblematic activities.
3. Sleep at the Monastère des Augustines in Quebec City
Many of us have passed through Quebec City on numerous occasions and if you're from outside Quebec Province, you've most likely seen postcards and pictures of how amazing it is. Why not indulge in a relaxing stay in the heart of the old town Quebec City? The Monastère des Augustines welcomes travellers and offers activities such as yoga and meditation, as well as a delicious healthy restaurant, but there's no obligation to participate. You can sleep in the traditional rooms or in the ultra-modern double rooms and explore Quebec City on foot. A great way to visit by day and relax by night!
4. Discover the Mauricie National Park All Year Round
Head for the Mauricie region and its magnificent La Mauricie national park, a must-see staple of the province of Quebec. Enjoy the summer scenery, admire the fall colours, watch the new snow fall or revel in the budding spring. The park is magnificent and unmissable 4 seasons per year, so don't hesitate to add it to your list of best places to visit on your itinerary through Quebec!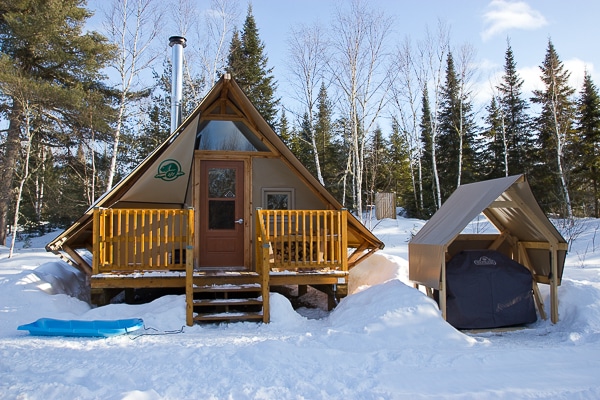 5. Take a Tour of Quebec Microbreweries
When "Quebec" is mentioned, foodies and agritourism pair up! Microbrewers are popular around the world and our province has carved out a name for itself. Visit the many breweries in all of our regions to discover the territory through your taste buds! Why not venture out on the Quebec beer route? This itinerary is very pleasant, as much for the landscape that will fly by as for the taste buds you'll indulge!
6. Admire the Wolf Pack at Parc Oméga, a Must-See in Quebec's Outaouais Region
If you're seeking a unique experience in the Outaouais region during your upcoming trip to Quebec, how does sleeping in a lodge with large windows located in the heart of a pack of wolves sound? From your bed in Parc Oméga, you will have plenty of time to appreciate their daily life without disturbing them, all while chillin' and relaxin' in nature in this glamping initiative!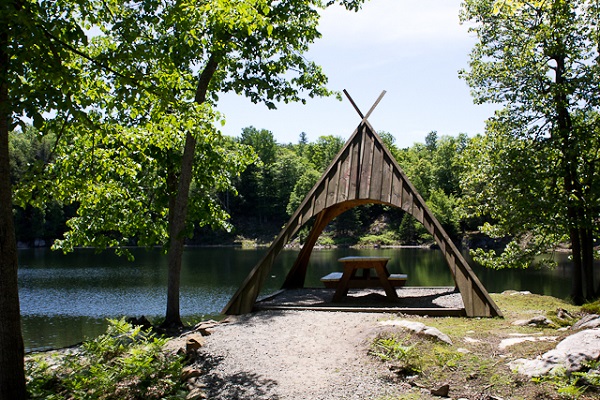 Some of the links in this article are affiliate links, which means I receive a small commission if you buy through them. This helps me provide you with valuable content at no cost to you! Thank you so much for helping me maintain Chasing Poutine! 🙂 Learn more about it by reading the editorial policy and legal notices.
7. Enjoy the Festivities at the Village Québécois d'Antan
Filling up on our history while having fun is easy at the Village québécois d'antan in Centre-du-Québec, a fun place to stopover during any period of year. If you can plan your day trip during the seasonal celebrations (haunted village on Halloween, Christmas festivities, etc.), even better!
8. Spend the Night in a Bubble at Windigo Village
In the Laurentians region, the Windigo Village welcomes you for an unusual glamping night's sleep: spend the night in a transparent bubble surrounded only by nature. From your bed, you will admire the shining stars and dream on.
9. Go Underground in the City of Gold
A must-see attraction in the Abitibi-Témiscamingue region is the Cité de l'Or, which allows you to descend underground into a mine to retrace the lives of the men who once worked so hard there. An immersive experience that I loved and that is typical for this mining region of Quebec.
10. Become an Apprentice Archaeologist in Témiscouata
At Lac-Témiscouata National Park, in an unknown part of the Bas-Saint-Laurent region, visitors can take part an archaeology activity. Not only will you be contributing to real excavations and not a staging for tourists, but if you have the same luck as me, you could unearth arrowheads or tools created by First Nations populations hundreds of years ago, a find that will remain in the archives! Activity or not, the park is also one of the best and top things to do in Quebec Province, especially as it's one of the lesser-known gems!
Whether you're a visitor looking to explore Quebec or a local venturing out, the province will charm you. It rivals the biggest travel destinations in the world. If I have convinced you with these 10 must-see attractions in Quebec Province, know that around them are countless best spots to eat, drink and visit, gourmet destinations, colourful activities and original accommodations to create a trip that will exceed your expectations!
Which of these top 10 things to do in Quebec province tempts you the most?
Have a nice trip to Quebec!
Are you on Pinterest? Pin these images to bookmark this article and include these Quebec must-see attractions in your trip.
---
Even though I have partnered up for this article, the opinions within it remain my own and have not been influenced in any way. Learn more about this by reading my privacy policy and legal notices.