Charlevoix's picturesque region has always been a dream place to visit for Quebec travellers as well as foreign tourists. Its bucolic landscapes and its peaks that slope down to the St. Lawrence River take advantage of this "je ne sais quoi" that leaves no one indifferent. Every time I walk along the water after visiting the best places to eat and drink in Charlevoix, the clean air fills my lungs and the idea of a road trip enchants me! During a weekend at the Fairmont Manoir Richelieu, I took the opportunity to discover tons of must-see gourmet stops all around Baie-Saint-Paul and La Malbaie. Here are my favourites among the so many best foodie places to visit in Charlevoix:
Please note that the information in this article may be inaccurate due to closures and changes during to the COVID-19 pandemic. Although I try to keep the information up to date, it is your responsibility to validate the information before you get there, as things change very quickly, alas!
Picturesque Village of Baie-Saint-Paul: All Kinds of Fun Foodie Spots
Baie-Saint-Paul is an incomparable village! Home of many artist galleries as well as local product shops established in ancestral houses reconverted along the rue St-Jean-Baptiste, its main artery. Restaurants and cafés where you can grab a bite to eat, a chocolate factory where you can indulge your sweet tooth, shops to bring back tasty souvenirs… There is no lack of gourmet of attractions in this small and quaint village. I spent the Easter weekend there at the Hôtel & Spa Le Germain Charlevoix a few years ago and it was simply magical.
Cidrerie Pedneault, For the Region's Well-Known Apple Cider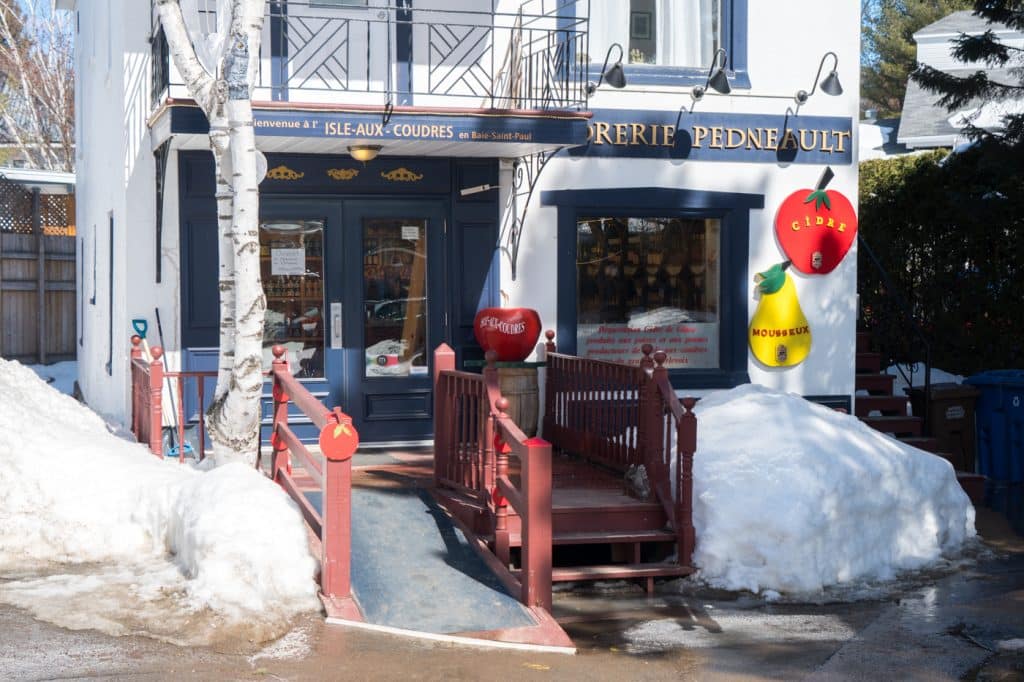 Cidrerie Pedneault is one of the foodie musts in Charlevoix. Visit this producer on Isle-aux-Coudres if you have a change or for those who, like me, don't have time to go there during their getaway, the owners also have a boutique in the heart of Baie-Saint-Paul's village. Get ready for some delicious shopping, because I'm an unconditional fan of their ice cider and local products!
Microbrasserie Charlevoix For a Taste of the Region's Beer
Because Quebec is known for its microbreweries, you have to at least stop into one, like the Microbrasserie Charlevoix to stock up on a few bottles of La Vache Folle and Flacatoune, some of their well-known brews. You can't drink it on site, but several restaurants serve it in the area if you don't want to grab some for the road!
Café Charlevoix, Locally Roasted Coffee
As we arrived in Baie-Saint-Paul around lunchtime, we had a bagel (from Montreal, hahaha) at Café Charlevoix, with, of course, a good cup of coffee. Filled with local products, such as cold cut meats and Charlevoix cheeses, their small menu can be savoured as accompaniment to their house-roasted coffee!
Famille Migneron de Charlevoix
Few Quebecers do not already know of the famous Migneron de Charlevoix. I have eaten it before, but I had never stopped in at the Mauricie Dufour refining house, a to-do to put on your list for your next trip to Charlevoix, Québec. You can see the production through large windows and the modern shop has all their specialties in stock.
Laiterie Charlevoix, for Milky and Cheesy Quebecois Delights
How many times have I stopped here on the way to or on my way back from a road trip to Charlevoix or to Tadoussac, in the Côte-Nord region, or even Saguenay-Lac-Saint-Jean? A handful of times! The Laiterie Charlevoix is ​​full of cheeses of their own production, but also of products from the region. It therefore acts as a gourmet grocery store for your improvised picnics as well as an Économusée interpretation centre to learn more about the trade. The very typical fresh scouick-scouick cheddar cheese is a must taste, I promise!
Pains d'exclamation for Pastries and Bread in La Malbaie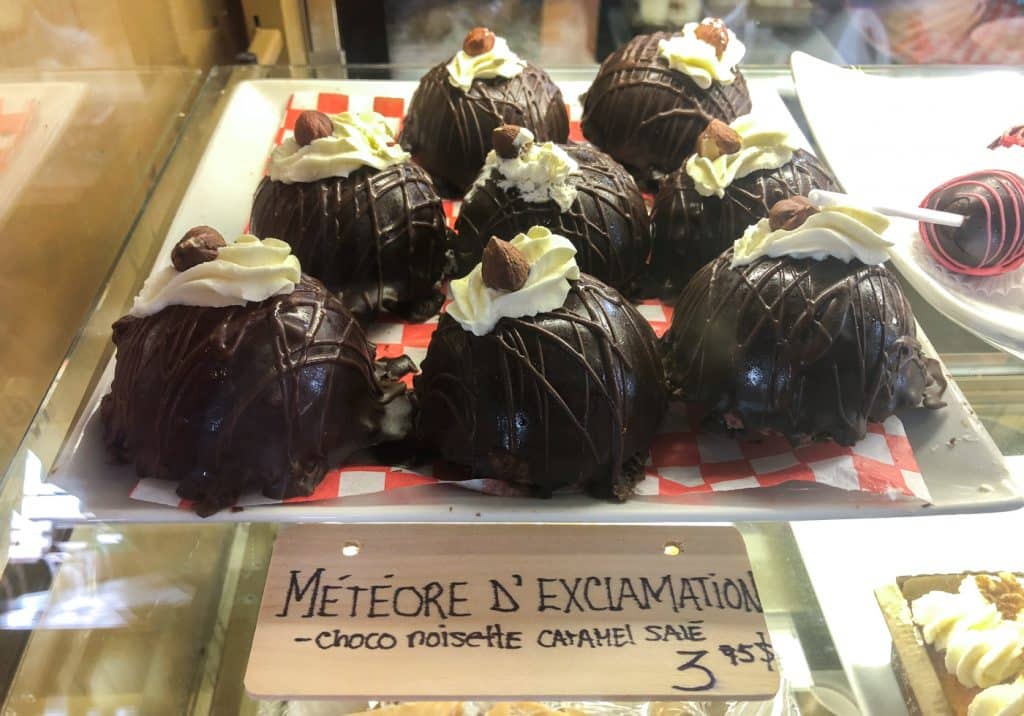 In La Malbaie, very close to the Fairmont Manoir Richelieu, it was the Pains d'exclamation that caught our attention after having been able to test their bread during our meal at the Table & Terroir restaurant of the manor. It's an address well located near the river, one stops there for a coffee or succumbs to "exclamation meteors". If you're wondering where the meteor name comes from: did you know that Charlevoix is ​​in fact the Charlevoix crater, caused by a meteor?
Fairmont Manoir Richelieu's Restaurants
In La Malbaie, we must not forget the restaurants of the Fairmont Manoir Richelieu where we ate on several occasions during our foodie weekend in Charlevoix. It's impossible to visit all the gourmet stops in Charlevoix during a single weekend; we wanted to do a lot more, but by chatting with the producers, spending time in the hot sun taking photos of the landscapes, time flew by. We'll just have to come back again and again!
If you are looking for other gourmet ideas, here is a little inspiration, but there is much more food and drink stops to explore on the Route des Saveurs de Charlevoix!
I'll leave you with a photo of our last stop of the weekend, not in Charlevoix, but on the road to Sainte-Anne-de-Beaupré, the Microbrasserie Des Beaux Prés with a view of the river!
Some of the links in this article are affiliate links, which means I receive a small commission if you buy through them. This helps me provide you with valuable content at no cost to you! Thank you so much for helping me maintain Chasing Poutine! 🙂 Learn more about it by reading the editorial policy and legal notices.
Which of these foodie must-visit places would you try first during a Charlevoix trip?
Want to know more about this region and the rest of the province of Quebec? Check out these articles as well!
Are you on Pinterest? Pin these images of The Best Foodie Places in Charlevoix article to your boards to plan your upcoming visit to Quebec!
---
Even though I have partnered up for this article, the opinions within it remain my own and have not been influenced in any way. Learn more about this by reading my privacy policy and legal notices.