Biking in Quebec City is one of the best ways to experience this fascinating historic city. Cycle alongside the Saint-Lawrence River on Promenade Champlain. Tour down some of Quebec's oldest roads, or circle Île d'Orléans.
There are several paths, routes, and neighbourhoods to explore. Go on Quebec City bike tours, or rent a bike and fly solo. Quebec City is quite bike-friendly, despite its lack of dedicated bike lanes.
Let's dig into everything you need to know about biking in Quebec City.
Best Spots for a Bike Ride in Quebec City
Quebec City does not have a lot of dedicated bike lanes. There are, however, several cycling paths and routes in the city and surrounding areas.
Corridor du Littoral
Relatively flat and perfect for all fitness levels. The route is 50 km (31 miles) and stretches from Aquarium de Québec to Montmorency Falls. Snaking along Promenade Samuel-de-Champlain, and through Old Port along the way.
Corridor de la Rivière-Saint-Charles
A 9 km (5.5 miles) route looping around the Saint-Charles River. The path runs through the Cartier-Brébeuf National Historic Site. It's a gorgeous setting for a picnic on a warm sunny day.
Corridor des Cheminots
Once a railway track line. This 22 km (13.5 miles) path links with Corridor du Littoral and Domaine Maizerets. It winds through Limoilou, des Rivières, and Haute-Saint-Charles to Shannon.
Domaine Maizerets
In Limoilou, bordered by 4 cycling paths in Quebec City. This is one of the best parks in Quebec City and a great spot for short bike rides followed by tasty picnics.
Île d'Orléans
A popular destination for biking in Quebec City. Rent an e-bike on the island and cycle its 33.3 km length. Pedal the Corridor du Littoral from Old Port to Montmorency, and cross the bridge to the island. Looping around the island, and back to Quebec City is a full-day activity. There are also bike tours in Quebec City, like the Montmorency Falls guided bike tour. Try the foodie version too! Or why not a tandem ride ?
Véloroute Marie-Hélène Prémont
31.5 km (19.6 miles) and follows one of the oldest roads in Quebec. Starting in Boischatel (beside Montmorency Falls), ride Route de la Nouvelle-France to Cap-Tourmente. You'll pass through charming towns, past historic outdoor cellars, and bread ovens. If you don't want to ride all the way back to Quebec City, there is a shuttle boat you can take in Sainte-Anne-de-Beaupré.
Bike Tours in Quebec City
Over the last five years, bike tours have become popular activities in Quebec City. Summer and autumn are the most popular seasons. In winter, fat bike tours in Quebec City are perfect for exploring snowy landscapes.
The Historical Lower Town and neighbourhood private bike tour is perfect for couples and families. 3 hours in duration, this tour includes my beloved Petit-Champlain and the Cartier Brébeuf National Historic Site.
EchoSports has a 3-hour electric bike tour. Cycle down Promenade Samuel de Champlain, through the Plains of Abraham, and into Old Quebec. The tour cost is 165 CAD and includes a bike, guide, and water.
Take a 4-hour bike tour to Montmorency Falls from Quebec City on the Corridor du Littoral. The tour includes a cable car ride with beautiful views of the falls and a break at the Montmorency River.
On Île d'Orléans, there is a 3-hour food tasting and cultural e-bike tour. The tour includes an e-bike rental, wine, chocolate, and other tasty treats from the island.
àVélo and Bike Rental Shops in Quebec City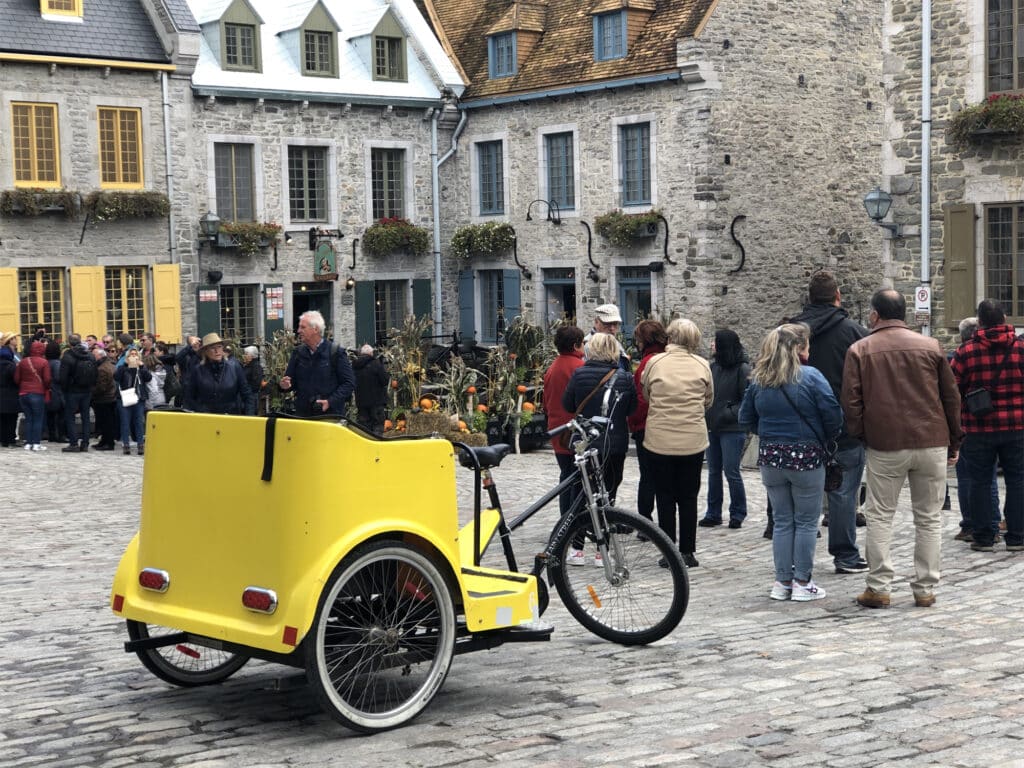 There are a couple of places to rent bikes in Quebec City. In Old Port, Cyclo Services is a go-to spot for bike rentals. Choose from hybrid, electric, road or tandem bikes. Rentals are available for one to four hours, one week, or two weeks. Prices range from 15 CAD to 600 CAD depending on the bike and duration. Kids' bikes are available, too.
àVélo is the best solution for short-term bike rentals. Why take a taxi when you can quickly rent an e-bike? There are 74 stations scattered throughout the city (see the map). Download the app, follow the instructions, and enjoy. A one-way 30-minute trip costs 5.25 CAD, then it is 0.25 CAD for every minute after that.
Location EchoSports is across from Place des Canotiers. They have guided bike tours (see above), and rent bikes for adults and kids. They also have bike trailers and tag-along rentals. Rent a bike for 2 hours, 4 hours, 1 day or 2 days. Bike rentals cost 14 CAD to 40 CAD, depending on the style.
Québec Aventure Tours is located on Île d'Orléans, and rents bikes and scooters. Bike rentals start at 49.95 CAD, and include a helmet, lock, and map of the island. Electric bike rentals start at 79.95 CAD. They also have tandem bike rentals for 89.95 CAD.
Bike Repairs in Quebec City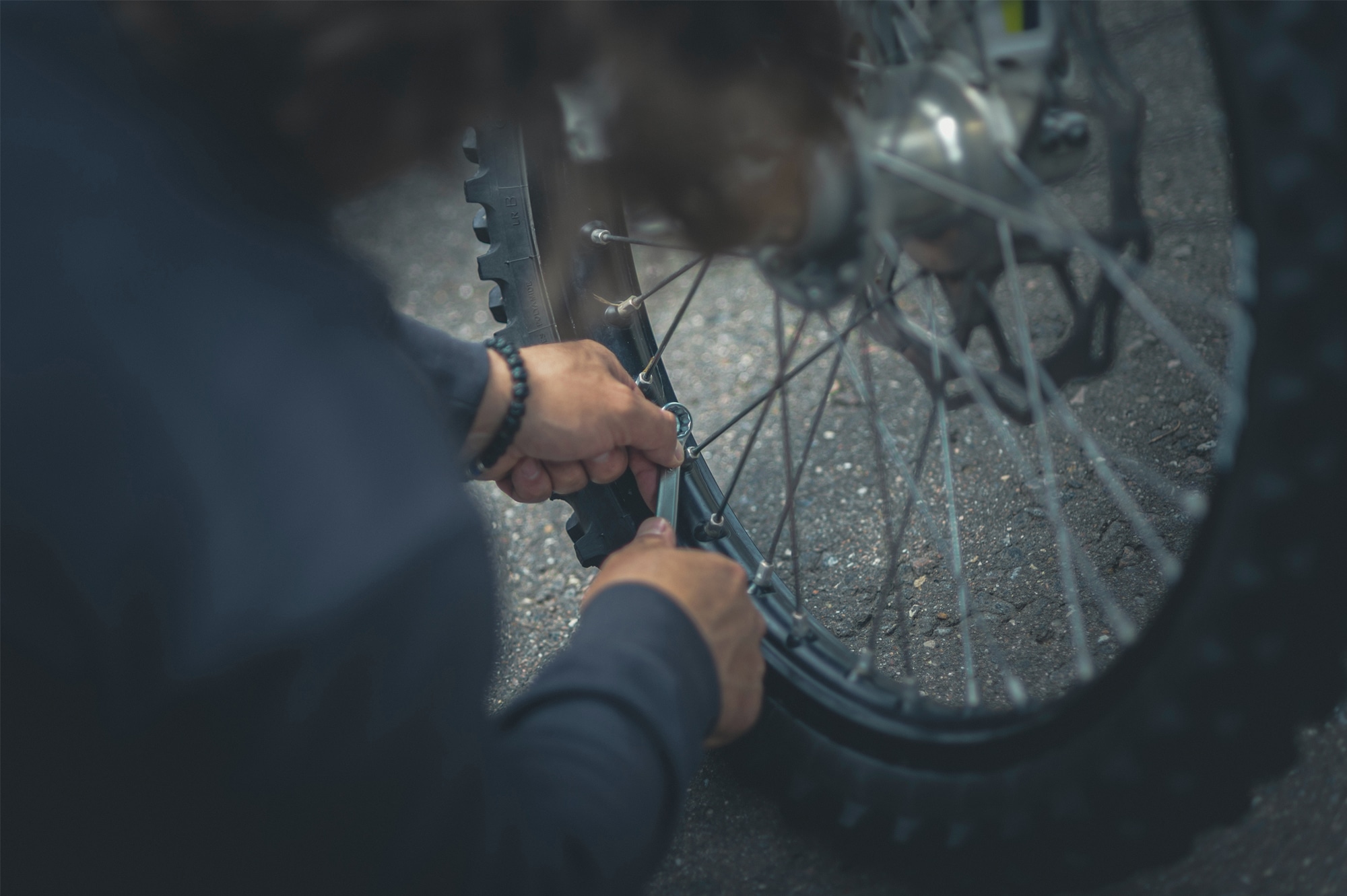 Finding places for bike repairs in Quebec City is not difficult. In the neighbourhood of Saint-Jean-Baptiste, Les Vélos Roy-O does bike repairs. No appointment is needed for simple repairs. They do maintenance as well.
Location EchoSports on rue Dalhousie can help with minor problems, tools, and parts. Major repairs need to go to their location on rue du Marais. Cyclo Services on rue Saint-Paul offers repair services as well.
In Saint-Roch, Marina Saint-Roch has a repair station for basic repair needs, like a flat tire. Across the Saint-Charles River, VéloCentrix provides free workshops on bike repairs.
In Limoilou, Domaine Maizerets (2000, boulevard Montmorency) has a repair spot for inflating tires and making minor adjustments.
Demers Bicycles & Ski Fonds, also in Limoilou, is a fantastic shop. They sell everything one needs for biking in Quebec City, and everywhere else. Visit them for bike repairs, equipment, and advice.
On Route 138, Vélo de la côte provides bike repairs. They're located in L'Ange-Gardien, not far from the Ultramar gas station.
Biking in Quebec City is a perfect activity for those who want some exercise while exploring the city. Peddle through historic streets and residential neighbourhoods. Discover the lush green parks, rivers, and waterfalls. Enjoy a picnic along the way. Whether you're travelling with your own bike, renting, or taking Quebec City bicycle tours, the city is waiting for you.
For other inspirational and practical content on Quebec City:
Are you on Pinterest? Pin these now to save them for later!