Summer in Quebec City is absolutely magical. As the sun warms up over the province of Quebec, everybody hurries to go outside to appreciate everything this festive season has to offer. Whether you wish to explore the old town with your partner, experience different activities with your family or go on a getaway with your best friend, you will surely have the time of your life. Here is a guide about the best things to do in Quebec City in summer to fully enjoy this fascinating historic destination.
What To See and Do in Quebec City During Summer?
Wandering around Old Quebec City
As you enter the fortified sector of the city through the emblematic St. Louis Gate, you will instantly feel the Parisian flair that reigns through the authentic cobblestone streets of Old Quebec. If you only have a short weekend to visit the capital, it is definitely where you want to spend most of your time.
Historic monuments listed on the UNESCO world heritage sites are shaping this part of the city with the Château Frontenac captivating everyone with its majesty and European identity. After participating in a guided tour of this iconic castle, the Dufferin Terrasse is a beautiful boardwalk bordered by the beauty of the St. Lawrence River and animated by musicians and entertainers.
The Funicular of Old Quebec, the only one of its kind in America, will then bring you down to the must-visit street, the Petit Champlain. After you have had the chance to revel in the charm of this picturesque alley, another of the best things to do in Quebec City in summer is to visit the La Petite Cabane à Sucre de Québec to grab a maple syrup ice cream.
Located only a few blocks away, the Place Royale will welcome you with its French and British-influenced architecture. Here, you will get to witness the oldest stone church in North America and many restaurants and boutiques decorated by flowers and typical rooftop windows.
After visiting 300 years of history at the fortress of the Citadelle, the Plains of Abraham is a great urban park to have a picnic and take in the fresh air of summer. While you are there, why not pamper yourself with the best spa in Quebec City, Strom Spa Nordique. This wonderful spa, which is in walking distance from the renowned battlefield, has the largest flotation bath, an infinity pool, and the most invigorating services with a breathtaking view over the St. Lawrence River.
Saint-Roch: The Trendy Neighbourhood
Known for being a working-class neighbourhood in the past, Saint-Roch is now a sought-after destination and one of the most entertaining places to visit in Quebec City in summer. If you are looking to mingle with locals, you should definitely head over to the spirited St-Joseph Street. This part of the city is known for its lively terraces, where you will get the opportunity to indulge in amazing gastronomic experiences, participate in local beer tastings, or simply relax in one of the best cafes in Quebec City. It is also the perfect place to go shopping and enjoy the musical scene of the region.
Quebec City's Summer Festivals
If there's one festival you should participate in is the Festival d'été de Québec! This music festival takes place for almost 2 weeks presenting all kinds of concerts from the biggest headlines to emerging artists. Different stages take over the streets of Quebec City and the Plains of Abraham thus creating an electrifying event.
Just like Montreal, Quebec City also has its own firework shows throughout the whole summer thanks to Grands Feux Loto-Québec. Launched from the middle of the St. Lawrence River and facing the Château Frontenac, the brilliant atmosphere created offers a magical moment which gives you another reason to visit the city.
If you wish to learn more about the indigenous tribes of Quebec, KWE! Fest is the perfect opportunity to meet and experience the traditions of the native community. Through numerous artistic and musical activities, conversations and workshops, you will get to learn about the 11 nations living within the province of Quebec.
Family Activities in Quebec City
There are so many things to do in Quebec with kids as the city is surrounded by a lot of nature. While Arbraska proposes exciting courses such as zip-lining through the trees, Canyon Saint-Anne will challenge you to cross different hanging bridges over the abyss. You could even fly over the canyon or simply walk different trails to admire the incredible geological activities that have formed giant potholes within this phenomenal natural attraction.
For an outdoor exhibition, Mosaïcultures will surely impress kids and adults alike. This colourful event takes place in Bois-de-Coulonge Park where about 200 plant sculptures will be showcased in honour of the beauty of life on our planet.
Indoor Things to Do in Quebec City
If you are wondering what to do in Quebec City in summer on a rainy day, know that they are plenty of indoor options. The aquarium of Quebec is an amazing playground for the whole family as you will get to explore different ecosystems of St. Lawrence and Canadian waters. Through different immersive experiences, you will observe a wide range of freshwater and saltwater fish and much more wildlife.
The Quebec Museum of Civilization, on the other hand, will allow you to experience ludic and fascinating interactive activities for you to mostly learn about human and social sciences. To travel into time, let yourself be guided by the distinctive Sound and Light Show about the military history of Quebec City during a visit to the Musée du Fort.
Things to Do Around the Capital, fun in Quebec City
Summer is probably the best time to visit Quebec City as you can participate in different water activities. Village Vacances Valcartier is known to be a great place to spend a day of fun with its impressive outdoor water park. In case it rains, there's even the Bora Parc which houses an indoor tropical world.
Baie de Beauport is also a popular stop as it is where you can enjoy one of the most accessible beaches in Quebec City. From its dreamy terrasse over the sandy beach and all the watercraft rental possibilities, you will quickly disconnect from the up-beat tempo of the city.
You will also find one of the most captivating natural marvels of the province, Montmorency Falls, nearby. After admiring its 272.3 ft tall beauty, you can cross over to the Île d'Orléans and enjoy a wonderful time on this isle. This little island is home to gorgeous rural landscapes where you will get to discover an infinite number of gourmet treats.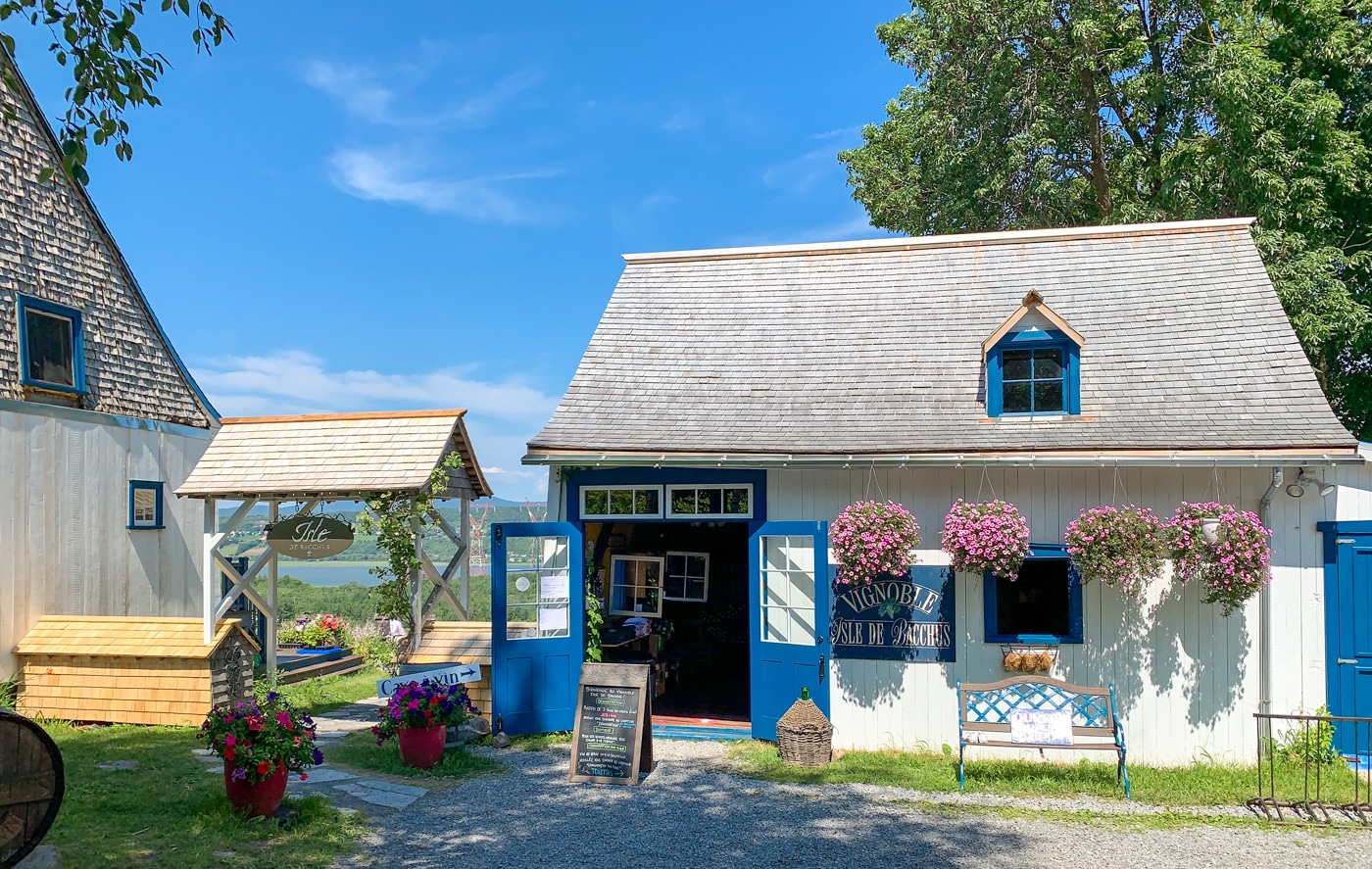 If you are looking for another original day trip, Wendake proposes an immersive experience in a First Nations community. From interactive workshops to the visit of the national Ekionkiestha' longhouse and different sharing experiences, you will get to create unforgettable souvenirs and learn so much about this incredible culture.
Because Quebec City is the starting point to many adventures on the St. Lawrence River, you should consider taking a cruise with Cruise the Saint Lawrence since it is a unique way to cherish your French-Canadian journey and reach other inspiring ports.
Back on land, if you wish to spend more time in nature, many trails are easily accessible while staying in Quebec City. If you are looking for a technical ascent with different breathtaking views over the St. Lawrence River, Mont-Sainte-Anne is the mountain you want to go to. The Jacques-Cartier national park will therefore bring you within one of the most beautiful glacial valleys of the province via different levels of trails characterize by dramatic landscapes and a stunning river.
Where to Eat the Best Food in Quebec City?
It's now time to talk about the best Quebec City restaurants! From rue Saint-Paul to Sault-au-Matelot and Place FAO, you will definitely be able to find a vibrant open-air dining room all summer long. It will be hard to choose between the best terraces in the Old Quebec City where mouth-watering food will be served to you in the kind of setting easily comparable to the most beautiful cities in Europe.
As a matter of fact, the Échaudé restaurant is known for its French bistro cuisine with a menu that changes with the seasons. For the best typical French-Canadian restaurants, La Bûche should be high on your list as you will find yourself indulging in the most traditional dishes of the province with a modern twist including poutine served in a cauldron.
While Le Cochon Dingue distinguished itself with its gourmet breakfasts, Paillard will serve you the best pastries. For flavours reflecting the boreal climate, Légende is an outstanding urban chic restaurant serving fresh fish, oysters as well as bison tartar, Appalachian red deer, and other delicacies.
For an authentic pizza night, Nina Pizza napolitaine is the popular place in St-Roch that everyone is talking about while Kimono Sushi Bar, located in Sainte-Foy, is where you can get the best sushi in Quebec City.
Where to Stay in Quebec City?
A lot of people dream to stay at the emblematic Château Frontenac. With a remarkable view over the water and the history that inhabits its walls, this beautiful castle is definitely the perfect place to fully immerse in Old Quebec's magnificence, but it comes at quite a cost.
Certified as a Carbon Neutral Company since 2021, the neighbouring Nomad Hotel is a pleasing boutique hotel located a few steps away from the Château offering unique rooms with each telling their own story. Definitely one of our favourites!
For another memorable adventure in the heart of Old Quebec, Hotel 71 is home to comfortable rooms following the recent international trends. You can even borrow a bicycle for free to explore the numerous cycling paths around the city. I
f you are looking for a completely different hospitality escapade, the Monastère des Augustines will welcome you with a unique holistic health experience, whether you're into yoga or not! It's a great place to take a special moment for yourself and connect with the Augustinian sisters' heritage on a non-religious level.
If you are travelling to Quebec City on a budget, you might want to look at the Auberge internationale de Québec as it is well located, has affordable and comfortable private rooms and dorm rooms, and proposes plenty of free activities.
Airbnb could also be a good lodging idea for you to immerse yourself with locals. Located in the trendy Saint-Roch district, Le Ricochet Urbain proposes a fully equipped apartment in a very homey setting.
How to Get Around Quebec City?
You will most likely be arriving from Montreal when travelling to Quebec City. You might take a short plane trip and land at the Québec City Jean Lesage International Airport, take a cheap 3-hour ride with the Orléans Express bus, or rent a car.
Once in the city, while you could easily use a taxi to explore around, the public transportation system is very developed, efficient, and much cheaper. As there are plenty of cycling paths between the different districts and right next to the St. Lawrence River, you could bike your way around the city as well after exploring the old part of the city on foot.
You should also consider joining a guided tour offered in Quebec City which could help you explore interesting places whether you are a foodie, love history, or wish to meet other travellers.
Are you ready to have a wonderful time in Quebec City during the summer season?
For more ideas about things to do in Quebec City and all around the province, click here: 20 Must-see Quebec Attractions to Add to Your Province Bucket List.
Are you on Pinterest?
Some of the links in this article are affiliate links, which means I receive a small commission if you buy through them. This helps me provide you with valuable content at no cost to you! Thank you so much for helping me maintain Chasing Poutine! 🙂 Learn more about it by reading the editorial policy and legal notices.